Error
CLUB UPDATE
2015 Glenelg Football Club Annual Report and Year Book
The 2015 Annual Report is now available to view. Our focus this year is to address two major issues – football and finance. Club President Nick Chigwidden, will address these issues on Wednesday at the AGM (Wednesday 17th February). For those members who are unable to attend, a report from the meeting will be posted on the website on Thursday 18th February. A printed copy of the Annual Report shall be available on Tuesday 16th February from Reception, or you can view here: GFC Annual Report 2015.pdf

Glenelg Club Update

Trading Hours:
Open: 9am every day
Close: 12am Monday – Thursday and Sundays
2am Friday and Saturday
New Menu: We have received great feedback about our kitchen team led by Chef Shane. See the website for latest specials.

Twilight Family Fun Night and Season Launch

Advance Notice: Friday 11th March from 4.30pm at the club - bring along the whole family for a fun filled evening. Stay tuned, more details will be released soon.

Supporter or member?
The best means of support is to buy a home match ticket this season. Not only does all your outlay stay at the Club, it is the most economical way of seeing us play and supporting our exciting young group of players. Your membership packs will be available direct from the Club this year in early March. To purchase your membership, contact our membership hotline on 1300 OUR CLUB or visit www.membership.glenelgfc.com.au
For any queries, you can email: This e-mail address is being protected from spambots. You need JavaScript enabled to view it

Gala Dinner – Advance Notice
Celebrating our Club is something we must do every year. This years' event will be held at the Intercontinental on June 25th and is set to be the biggest and best event yet!
DON'T MISS OUT!
Seats to our exclusive Tiger Lunch with AFL and Footy Show legend, Billy Brownless, are selling fast. Secure your seats today by calling on 8294 5333 or emailing This e-mail address is being protected from spambots. You need JavaScript enabled to view it


COACHES CORNER - GLENELG - BY ZAC MILBANK
Glenelg has added former North Adelaide utility Rhys O'Keeffe as it seeks to add bigger bodies to its developing midfield unit.
Entering his second season at the helm, Tigers coach Matt Lokan identified a need to bolster the physical strength of his on-ball brigade, with solidly built Dylan Reinbrecht (Norwood) and Ben Sawford (Port) also joining in the off-season.
Speaking on SANFL Radio, Lokan said O'Keeffe – who measures in at a sizeable 188cm and 88kg – had been quick to impress on the track since arriving at Brighton Road.
For the full story by Zac Milbank, and to hear the Soundcloud interview please
CLICK HERE
Younger Scharenberg shattered for brother Matt's second ACL tear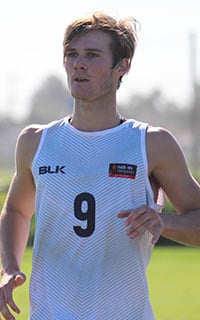 JONTY Scharenberg walked out of his English exam, opened up his Twitter feed on his phone and was shocked by what he read.
It was late November and his older brother Matt had torn his anterior cruciate ligament and would need a knee reconstruction, his second in two years on Collingwood's list.
"I couldn't believe it," Jonty told AFL.com.au. "Mum didn't want to tell me before I went into the exam which is fair enough, but I was just shattered for him. I sent him a text straight away but I just couldn't believe it.
"Seeing the hard work he's gone through and for it to happen again is pretty frustrating for him, but I'm sure he'll be able to bounce back."
Scharenberg, 17, hopes to join his older brother at the top level via this year's NAB AFL Draft, having impressed last season for South Australia's under-18 team and even breaking into Glenelg's senior SANFL side.
This week he is training in America with the NAB AFL Academy on their high performance camp in Florida – a trip designed to reflect an AFL club environment – but he already has a strong insight into what can come with being a professional athlete.
Full the full article, please CLICK HERE
ANNUAL GENERAL MEETING – CHANGE OF DATE
Members are advised that the Annual General Meeting originally advised as being Wednesday 10 February shall now be held on Wednesday 17 February at 7.30pm. We have experienced a slight delay in preparing the annual report due to finalising the audit. We apologise for any inconvenience and look forward your attendance.
New Date
Wednesday 17 February, 2016
Time: 7:30pm
AGM of the Glenelg Footballers Club Inc immediately followed by the AGM of the Glenelg Football Club Inc