Error
COACHES CORNER - GLENELG - BY ZAC MILBANK
Glenelg has added former North Adelaide utility Rhys O'Keeffe as it seeks to add bigger bodies to its developing midfield unit.
Entering his second season at the helm, Tigers coach Matt Lokan identified a need to bolster the physical strength of his on-ball brigade, with solidly built Dylan Reinbrecht (Norwood) and Ben Sawford (Port) also joining in the off-season.
Speaking on SANFL Radio, Lokan said O'Keeffe – who measures in at a sizeable 188cm and 88kg – had been quick to impress on the track since arriving at Brighton Road.
For the full story by Zac Milbank, and to hear the Soundcloud interview please
CLICK HERE
Younger Scharenberg shattered for brother Matt's second ACL tear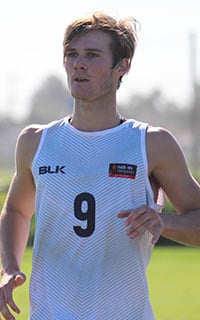 JONTY Scharenberg walked out of his English exam, opened up his Twitter feed on his phone and was shocked by what he read.
It was late November and his older brother Matt had torn his anterior cruciate ligament and would need a knee reconstruction, his second in two years on Collingwood's list.
"I couldn't believe it," Jonty told AFL.com.au. "Mum didn't want to tell me before I went into the exam which is fair enough, but I was just shattered for him. I sent him a text straight away but I just couldn't believe it.
"Seeing the hard work he's gone through and for it to happen again is pretty frustrating for him, but I'm sure he'll be able to bounce back."
Scharenberg, 17, hopes to join his older brother at the top level via this year's NAB AFL Draft, having impressed last season for South Australia's under-18 team and even breaking into Glenelg's senior SANFL side.
This week he is training in America with the NAB AFL Academy on their high performance camp in Florida – a trip designed to reflect an AFL club environment – but he already has a strong insight into what can come with being a professional athlete.
Full the full article, please CLICK HERE
ANNUAL GENERAL MEETING – CHANGE OF DATE
Members are advised that the Annual General Meeting originally advised as being Wednesday 10 February shall now be held on Wednesday 17 February at 7.30pm. We have experienced a slight delay in preparing the annual report due to finalising the audit. We apologise for any inconvenience and look forward your attendance.
New Date
Wednesday 17 February, 2016
Time: 7:30pm
AGM of the Glenelg Footballers Club Inc immediately followed by the AGM of the Glenelg Football Club Inc
Bendigo Bank South East Academy
The Glenelg Football Club Bendigo Bank SE Academies will resume again next week. The groups coached by Matt Scanlon (Mt Gambier), Andrew Nitschke (Millicent), Tony Atkins (Naracoorte), and Kane Cuthbertson (Bordertown) completed 7 sessions before Xmas and will do another 5 sessions before they play matches against each other at Naracoorte on Sunday March 6th.
After these matches a squad of 25 Under 16's will be chosen to play the Metro Under 16 team at Kingston on Saturday March 19th. There will also be an Under 18 trial played at Kingston amongst lads from the SE who are turning 17 or 18 this year. These matches will showcase the players that will be considered for selection in Glenelg teams in 2016.
Photo is from last year's Academy matches
Pre-season pace setters - by Zac Milbank
The SANFL's ZAC MILBANK takes a look at who has been impressing on the track this summer.

Track Burners – Players who have posted the best time trials or shaved significant amount of time from their personal best.
Gym Junkies – Players who have gained significant weight while working hard in the gym.
Casualty Ward – Players who have undergone off-season surgery or are on modified programs during the pre-season.
The New Breed – Recruits or underage players who have caught the eye during pre-season training.
GLENELG

Track Burners – Jack Haarsma, Matt Snook, Ben Sawford

Gym Junkies – Ben Edwards, Damien Hill, Brad Merrett

Casualty Ward – Midfielder Hayden Jolly underwent ankle surgery before Christmas but has begun running while country star Jack Kenny is sporting a moon boot as a precaution after rolling his ankle at training last week. Luckless defender Pat McCarthy continues to battle an ongoing groin complaint, he has started running but is around 3-4 weeks from joining full training.

The New Breed – Rising midfield star Jonty Scharenberg has been ''flying'' on the track according to coach Matt Lokan, who added he has added size to his frame to the point he expects the teenager to play regular senior football in 2016. Crafty young forward Corey May has improved his fitness significantly after impressing in the Under-18s last year while former Sturt goalsneak Ziggy Vitkunas has impressed with his ''first-class training standards.''
For the full article, which includes the other club's progress - visit CLICK HERE